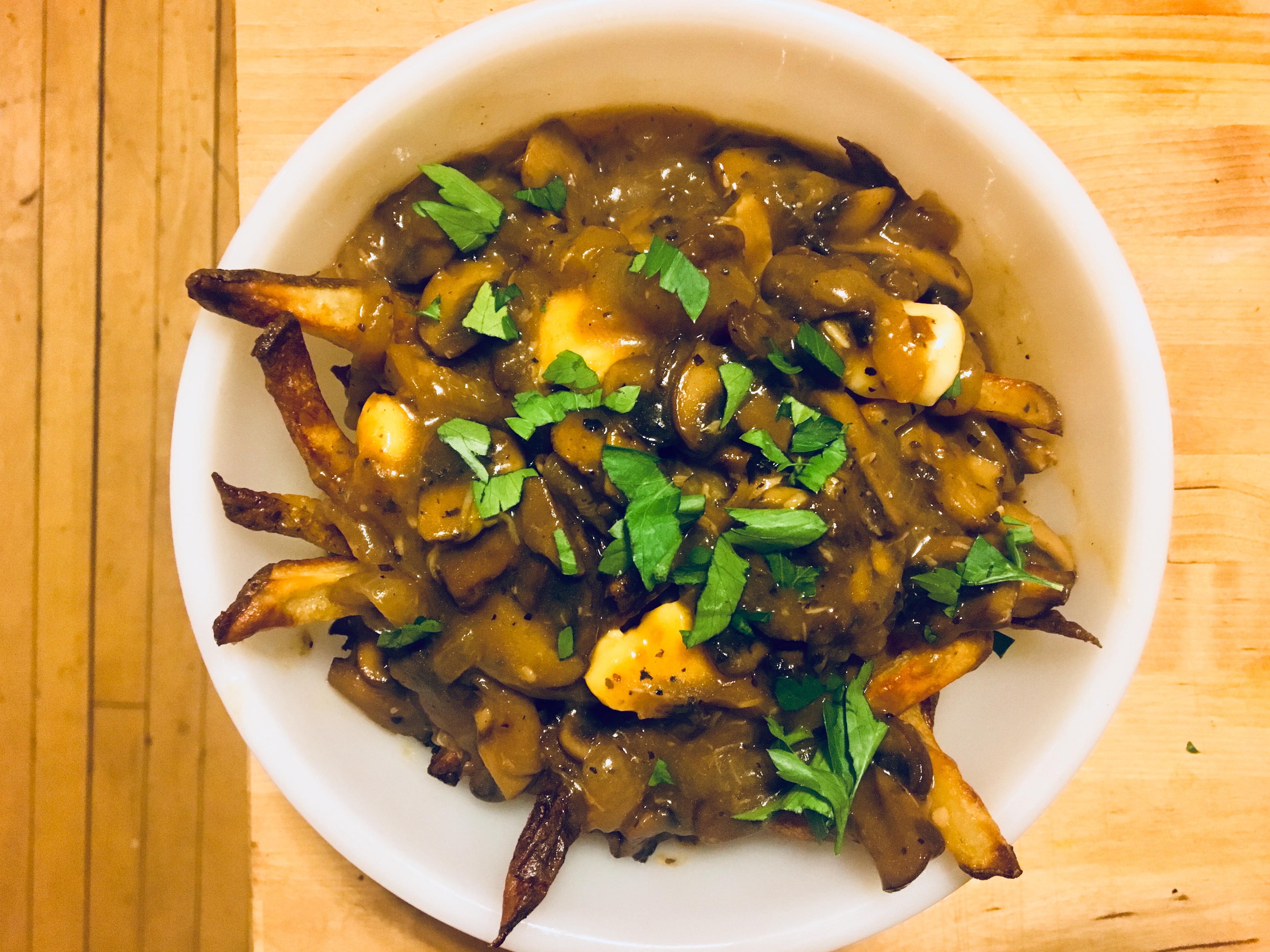 Four years of undergraduate living in Montreal gave me an insatiable appreciation for poutine.
Heard of it? It was my go-to late night fast food of choice while living in Montreal. Pizza, pad thai noodles, or poutine. I've perfected and modified this recipe over the years. It's delicious. Proportions are approximate and this post will be updated as I continue to make this recipe!
And, FYI, soaking the potatoes in advance helps remove some of the starches in the potatoes, yielding a fluffy, yet dense inside with a crisp outside to the fries.
Ingredients:
2 russet potatoes
1/2 cup sliced crimini mushrooms
1/2 onion, sliced
1/2 head roasted garlic
2 cups homemade veggie or chicken stock
3/4 cup fresh cheese curds
3 tbsp butter
1-2 tbsp olive oil
2 tbsp flour
2 1/4 tsp salt, to taste
1 tsp fresh cracked pepper
1 tsp loosely chopped fresh parsley
Handful of arugula or spinach (optional)
Directions:
Slice potatoes into even-sized fries  and place in a bowl of cold water. Cover and store in the fridge for up to 8 hours. When ready to use, drain off water using a fine mesh strainer and dry off potatoes by placing in between several layers of paper towels. Add back into dried bowl and toss with 1 tbsp of olive oil, and approximately 2 tsp of salt.
Preheat oven to 400 degrees, and line a baking sheet with foil. Drizzle a light layer of olive oil onto the foil and spread potatoes onto the sheet pan in one even layer. Add to oven and bake for 45-minutes to an hour, flipping the fries at around 25 minutes and 10 minute intervals thereafter to prevent fries from sticking and allow for an evening browning. At this point, you may want to increase the temperature to 425 for the last ten minutes if the fries do not look quite browned.
Meanwhile, melt approximately 2 tbsp of butter and 1 tsp of oil into a saucepan over medium heat. Add onions and cook until translucent (5-7 minutes). Add mushrooms and cook until tender, approximately 5 more minutes, adding the last tbsp of butter to the pan as they cook. Sprinkle some salt and 1 tsp of fresh pepper into the pan. Once mushrooms are cooked through, add two tablespoons of flour and toss to coat the mushroom and onion mixture. Cook for approximately 1 minute, before adding stock. Once stock comes to a gentle boil, squeeze in roasted garlic and stir. It will break down as the sauce simmers.
Allow gravy to come to a low simmer and cook for approximately 30 minutes until the sauce has thickened to your desired consistency. If the fries are not yet done by the sauce is completed, reduce to low to keep warm.
To Serve
Add half of the fries to a large bowl and top with 1/3 of the cheese curds. Layer the second half of the fries on top and add an additional 1/3 of the cheese curds. Top with the remainder of the cheese curds.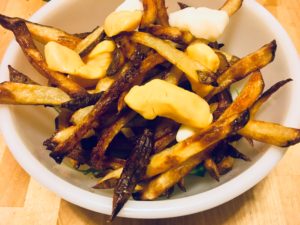 *note that you may hide a handful of spinach of fresh arugula in the bottom of the bowl before adding the poutine for some extra greens.
Lastly, spoon all of the gravy on top, making sure to allow some to drizzle along the inside of the bowl to make sure the fries on the bottom get some gravy too. Top with fresh chopped parsley! Eat immediately.
*also, you could divide this into two bowls and share…if you wanted…