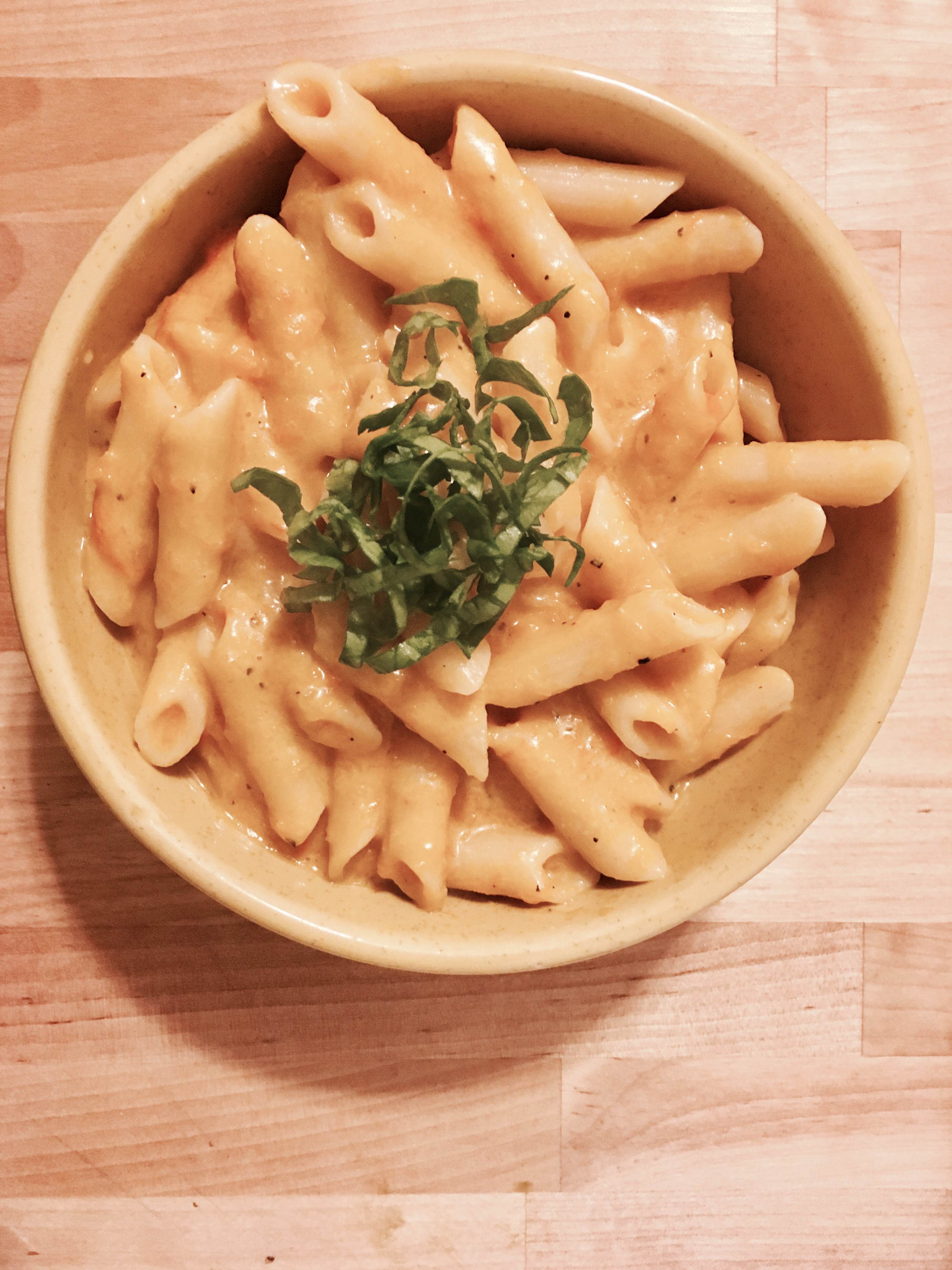 I have a secret (not so secret) love for mac and cheese. I have an even more secret love for vegan mac and cheeze. This version uses butternut squash, nutritional yeast, and roasted garlic to give it that umami goodness. Gluten-free substitutions described below! (Serves 2)
Ingredients
1/3 cup nutritional yeast​ (+more to taste)
1/4 cup flour (GF: sub 1 tbsp potato starch and 1 tbsp corn starch)
1 teaspoon salt
pepper, to taste
1 cup water
2 tablespoons ​earth balance
1/2 ​half a head of ​roasted garlic
1 medium-sized butternut squash
4 cups cooked pasta (​GF if desired)
1 tbsp olive oil
Directions
Step 1: Bake squash: ​preheat oven to 375
Cut butternut squash​ in half​, remove seeds, and rub about 1 tbsp olive oil on the cut half. Line baking tray with aluminum foil and lay butternut squash, cut side up on the pan. in the corner. wrap garlic, skin still on, in aluminum foil and add to pan. Roast until squash is tender with a fork for about 45 minutes-1hr.
Step 2: ​Make pasta
Cook pasta according to taste (al dente, obvi). When cooked, return to pan and drizzle with a bit of olive oil so that it doesn't stick (if sitting for a little while).
Step 3: ​Make sauce
I​​n a pan, add nutritional yeast, salt, pepper​, flour (or gf alternatives), earth balance, and water. cook on medium-high heat until sauce thickens and begins to boil, stirring or whisking​​ to keep it from sticking and clumping (approx 1-2 minutes). ​Combine ingredients in a blender or using an immersion blender, mix sauce with half of the butternut squash (about 1 cup), and ~half a head of roasted garlic. Add sauce to pasta in the pan and heat on medium to let the flavors mix and heat up the sauce (if cheeze sauce cooled). Top with fresh chopped spinach ​or basil ​(if desired), mix, and enjoy!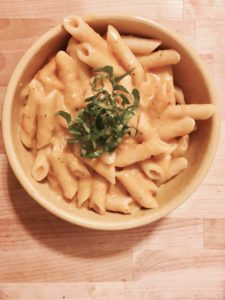 Note: Adjust salt and pepper to taste, and add additional nutritional yeast if ​ya want! I always do…!